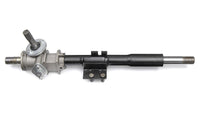 Steering Rack De-Power Service ( universal service )
Please Carefully Read The Following Before Ordering:
I can service the following racks, if you have questions please email - EatonMotorWorks@gmail.com prior to placing an order. 
Honda - civic, delsol, S2000, etc. 
Mitsubishi - DSM, Evo, Galant, 3000gt, etc. 
Mazda - Miata, RX7, RX8, etc. 
Nissan - 180sx, 240sx, 350z, Silvia, GTR all years, Pulsar, etc. 
Toyota - Supra, etc.
Lexus - Is300, etc.
Subaru - WRX, etc
Ford - Mustang, Focus, Cosworth, etc.
Dodge - SRT4, etc. 
Chevy - Camaro, Cobalt ss, etc
If you don't see something above, don't worry about it. chances are I can service it. Shoot me an email to confirm prior to purchasing. 
Bushing's :
Some steering racks come with rubber bushings that can be replaced with solid units. Billet bushings can be manufactured in-house and installed. To make this simple - If interested: email prior to ordering for pricing.

When placing an order PLEASE put in the note section ( make & model ) of what the steering rack is out of.  Thank you! 



A power steering rack without a fluid system is now an air pump, pushing air from one chamber to the other while being pressed into a small fluid valve body. This causes the steering to be very tough, and tougher if there is fluid being compressed within the valve body. A depowered rack is another term for a serviced rack and pinion. This is not an end all be all however for the cost, this should be option one before taking other steps for improvement.
We have offered this service since early 2014 with hundreds of serviced racks within the DSM/EVO & 3000GT community to date. Below is just a quick rundown of what is performed.

Description of the work performed:

Full disassembly 


complete cleaning in our high pressured parts washer


inspection of both housings & rack/pinion


If moisture build-up has caused corrosion issues - The rack is machined & repolished


If the rack has no corrosion issues only a repolish is performed 


The pinion shaft's valve body is removed & tig welded 360* degrees with a 316s filler rod to add rigidity. 

The valve body is keyed around a locating pin with a C-clip holding it in place. If this valve body is removed it is possible over time for the main locking pin to loosen & cause sloppy steering. 


Ports are removed from the main housing and welded shut.


Zirc fitting is added and Molly grease is injected


All bearings are - cleaned & re-lubed 


Preload is set to my spec


Please keep in mind: ( That steering wheel size & tire size and compound will promote different results. If additional assistance is needed we recommend adding an inline steering assist motor & wiring a rotary control knob for exact driver preference. )

*Turn around time ranges between - 1-8 weeks ( From the time your core arrives,

not from the time of purchase

)  100% schedule dependant - please be patient, I am a one-man operation. You may receive an order confirmation & tracking number prior to service being completed in preparation for shipping your order *

This is a service - refunds are not available.

All service pricing is at a fixed rate of $299.95 
Rushed Turn Around Service ( 1 week ) - Additional $200. 
Bushings are additional. 


Drain fluid Prior to shipping! 

Package well! 

Shipping Address - 



Eaton MotorWorks




3 Puzzle Lane unit 1


Newton, NH 03858